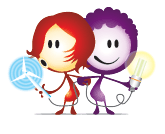 The Big Bang Fair is the largest celebration of science, technology, engineering and maths for young people in the UK. Everything they do is aimed at showing young people (primarily aged 7-19) just how many exciting and rewarding opportunities there are out there for them with the right experience and qualifications. 
Daisy went along to have a look and sent us this great report. The Big Bang Fair is over for this year, but there are other great events planned all around the country. 
In March I went with my class to the Big Bang Fair at the ExCel centre in London. 
And it certainly was Big. Chances are you were there too as the enormous queue took an hour and a half just to get into the ExCel.
Once inside the cavernous space we were let loose on the Showfloor. The Big Bang Fair is full of interactive stands, activities, workshops and shows. I tested my reaction times on a giant electronic scoreboard, measured my speed and long jump prowess in the Body Talk zone and took fake blood from an arm with the classroom medics.
We even had time to take in a show. In the Capital Hall on the Big Bang stage we saw 'Cracking the Code: The Genetics of Superheroes' which explored the idea of using genetics to make us superhuman. We have just started learning about organisms and classification in Biology, so some of the science was quite challenging. But who knows – by the time I finish school, genetic science will have evolved and I might be able to go into the field of researching and creating our first genetically engineered super powered human!
And if you love science and maths but don't know what you might do with them in the future? Then the Careers Hub was just the place to head to. Here, I answered a series of questions to find out which 'crew' I might be in when I look for a job. Based on my answers I matched the Sports Crew and possible careers could be a materials engineer or a sports physiotherapist. You can find out which crew you are in by taking the quiz. 
The Big Bang Fair even had the Prime Minister's endorsement. As we were eating lunch we caught a glimpse of David Cameron rushing past – followed by crowds and camera crews. I hope he enjoyed the day as much as I did and was inspired by the vibrant enthusiasm of the scientists and engineers and the brain boggling activities on offer.
My name is Daisy, I am in Year 7 and my favourite subjects are English, PE and Latin.
Find out what other young visitors thought of the Big Bang Fair on their Website