For many kids, using proper sharp knives can be a little bit scary, but it needn't be. Follow these few simple tips and tricks from our TweenChef Cat, and you will be a whizz in the kitchen in no time! Get permission from your parents before doing anything in the kitchen, and then you can wow them by making them lunch!
More Tips for Parents on Knife Safety for Kids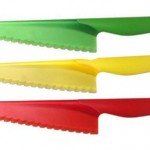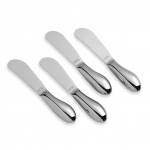 For younger, and more cautious kids, you can start out using smaller and less sharp knives. When we say 'less sharp knives', we don't mean blunt ones, but ones that are more suited to cutting soft fruit or cheese, like these cheese spreaders. They are great for really little kids, as they have chunky handles
Once they are more confident, kids can move on to using a Lettuce Knife like these one – good for practicing using a big knife, without it being quite so scary!
As Cat mentioned in her video, make sure the kids can reach the workshop safely – the ubiquitous Ikea step comes in very handy for this. Once they are comfortable using the Lettuce Knife, move them on to peeling potatoes and slicing soft fruit like bananas.
And finally … any Nutella fans out there? We love this Nutella knife, which is specially designed to get every last bit of Nutella out of the glass!