Image by miquitos / Flickr
Dr Lesley Beeton visited South Africa and visited a school to find out what it's like to go to school in South Africa.
This is the Drakensberg in South Africa. In English, it means 'Dragon Mountain'. The children in this part of South Africa face a daily commute to school. In the area where I was staying, the nearest town was Bergville. With the windy roads through the mountains, this journey can take almost an hour. School starts early too, at eight o'clock, so that means getting up around 6 am to be ready for the taxi.
Can you imagine a journey like that, just to go to school?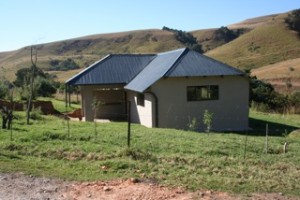 The problem
The long drive and the cost of the taxi meant that many children didn't go to school, and that is not good for the long-term future of the children and South Africa.
So, the owner of the hotel we were staying at decided to set up a school. But first, they had to build it. This is the homemade school at The Cavern.
Would you like your school to be in the mountains?
The Royal Drakensberg Primary School
They named the school the Royal Drakensberg Primary School, and as of this year, there are 55 pupils enrolled.
There are four teachers, who all live in the school grounds, in houses built for them. Twice a year, an examiner visits the school to make sure that the children are learning the right things and keeping up with children at mainstream schools.
The Royal Drakensberg Primary is an independent school which gets no funding from the government and aims to educate some of the poorest children in the country.
Who pays for it?
So where does the money come from? The main funding comes from the hotel owners, who pay for transport and the maintenance of the school buildings.
Guests at the hotel are encouraged to visit the school and buy tourist gifts made by the children. They do a lot of beadwork. Visitors are asked for donations. And an organization Hearts of Hope was set up to raise money for education projects in South Africa.
It's a constant battle. There are still many people earning very low wages in South Africa. The parents of the children in this school are mostly hotel workers. They must each pay R400.00, that's about £30.00, a month for each child in the school.
Education is priceless
Everyone knows that a good education is priceless. These children will become South Africa's teachers, doctors, nurses, and politicians. In Africa, education is still a privilege. It is not every child's right to go to school.
Many mothers are uneducated themselves. There is a saying that the mother educates the child, meaning that if the mother has not been to school, then it is very likely that child won't go to school either.
It is vitally important that we change this perception. Children in Britain all have the right to go to school. Children in Africa still have to fight for survival.
Do you like going to school? What would you do if you didn't go to school?
More information?
I am pleased to support the following organisations in South Africa.
Hearts of Hope works with education projects in rural South Africa and is mainly involved with getting young children into primary education.
The Thandulwazi Maths and Science Academy is based in Johannesburg and was set up to encourage young school children to continue studying maths and science at school. It also trains teachers in maths and science. These subjects are most important for economic development in South Africa. 'Thandulwazi' means for the love of knowledge in Zulu.
Dr Lesley Beeton is an experienced life science researcher with a passion for talking and writing about science.
SaveSave
SaveSave