Dr Lesley Beeton is a scientist, who studies what the DNA code tells us about human life and health. She has always loved science, and believes that science doesn't just happen in laboratories. It happens all around us. Science keeps aeroplanes flying, electricity flowing, and the internet speedy.
Dr Beeton  grew up in South Africa. Some of you may have traveled there for your holidays, to see the game reserves or Table Mountain. But even if you haven't been there, we can all still learn something from the experiences of southern Africa.
Water, water everywhere and not a drop to drink
(with apologies to The Rime of the Ancient Mariner) 
Drought
What you may not have realised is that it is a region of the world plagued by drought. In 1983, the southern African continent suffered a devastating drought, and we faced severe water restrictions for about six months. These restrictions affected the entire country, approximately four times the size of England and Wales. Each household was restricted to just 400 litres of water a day. We had to stand in a bucket to shower. When the bucket was full, your shower was over. The bucket of shower water was used to flush the toilet. And that meant just four flushes a day in our house.
How many times do you flush the toilet in one day?
Floods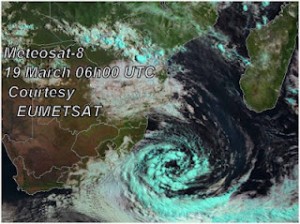 And then, early in 1984, we were hit by tropical cyclone Demoina. It hurtled up the Mozambique channel, destroying everything in its path, and causing the worst flooding ever recorded on the South African coast. First too little water, and then way too much.
Engineering a Solution
Following the drought, an innovative pumping scheme was engineered to drive water over the escarpment and into the shallow Vaal Dam, the main reservoir water supply for Gauteng, a major metropolitan (shopping and business) area in South Africa. This meant that water resources could be better managed across the country, improving storage capacity and efficiency.
Evaporation, though, continues to be a leading cause of water loss, and this is counter-acted by a program of cloud-seeding* to ensure moisture is returned to the ground. Desalination plants which make tap water from sea water are being used in coastal manufacturing processes, but in spite of South Africa having such a large coast line, this is still not a main stream water resource.
And it will need to be, to cope with Africa's increasing water needs. It's complex, and a never-ending battle against nature, but so many people, animals and crops depend on a constant water supply, that it is a cost that South Africa will have to bear.
Do you think that desalination would be a good source of drinking water in the your country?
Beyond South Africa
What does this have to do with you?  Some of you will be living in drought-affected areas. That may mean a hosepipe ban. Perhaps you have heard your parents and teachers talking about having to water the garden with a watering can. Or not washing the car. We have put water butts in our garden to catch rain water. We changed our garden to be less 'thirsty'. We share a bath, only run the dishwasher and washing machine on a full load. We have a low flush loo. We pay for the water we use because we have a water meter. We respect this precious resource.
My veggie patch is nearly ready for planting and I am really concerned that I will not be able to keep my veggies going if we have a hot spring and summer. The water butts will run out quickly, and my crops will fail.
Have you planted any veggies? How will you water them if the hosepipe ban continues?
The Future
And what about in the future? The world needs a long-term water solution. We need to train scientists and engineers who have a vision for working in water resource. Our country needs to invest in geologists, engineers, and biologists to provide our future water needs.
Do you have any water wonderful ideas?
Thandulwazi
Nelson Mandela said "Education is the most powerful weapon which you can use to change the world". In Zulu 'Thandulwazi' means for the love of knowledge. Wouldn't it be great if all pupils could go to school with those words in their hearts? Feel the science love.
Cloud-seeding is when scientists go up in a small plane to 'shoot' dust-like particles into clouds. These particles attract small water droplets, which form into rain clouds. We shall cover this in a later article.
 Dr Lesley Beeton is an experienced life science researcher with a passion for talking and writing about science.