Following on from our Start a Blog post, we wanted to give you detailed instructions on how to set up your blog. We will show you the three main blogging platforms, and talk you through setting up a blog and getting started.

Starting with the 'microblogging' website Tumblr.
What is Tumblr, and what is the difference between microblogging and traditional blogging?
Tumblr is a blogging platform where the emphasis shifts from the written word of traditional blogging, to shorter posts and more multimedia posts, such as photos or videos. The ease in which it is set up, and the great functions for sharing with other bloggers, make it very popular with younger bloggers.
Like on Facebook or Twitter, you can follow other bloggers, and share their blog posts (reblog) with your followers. Rather than having to upload a video onto YouTube, as you would have to do on WordPress or Blogger, you can share your video straight onto Tumblr.
It is however restricted to over 13 year olds. 
Follow these step-by-step instructions for Tumblr account and get blogging. 
You will be prompted to prove that you are not a robot
Tumblr will send you an email to verify your account. Click on the link, or copy and paste it into your browser.
Congratulations. You have a Tumblr Blog. There are two parts to a Tumblr blog – your Dashboard, shown below, and your actual blog. 
On your dashboard you can write a blog post, add photos, a quote, a link, an audio track or a video. You can also chat here, but ask your parent or guardian first about their rules for chatting online. 
You can also see the posts of others on your timeline. These are people who you follow, whose blogs you read. You can reply, 'like' their posts, or reblog. To reblog means to pass on their blog post to your followers.
Here is how to find you actual blog – the one that other people can read and follow. You can change how your blog looks to others by choosing a theme.
There are lots of themes to choose from, some of which give you the option of customising them. You can change the colours, add pages, and do all sorts of cool stuff. Try it out. If you don't like it, try a different theme.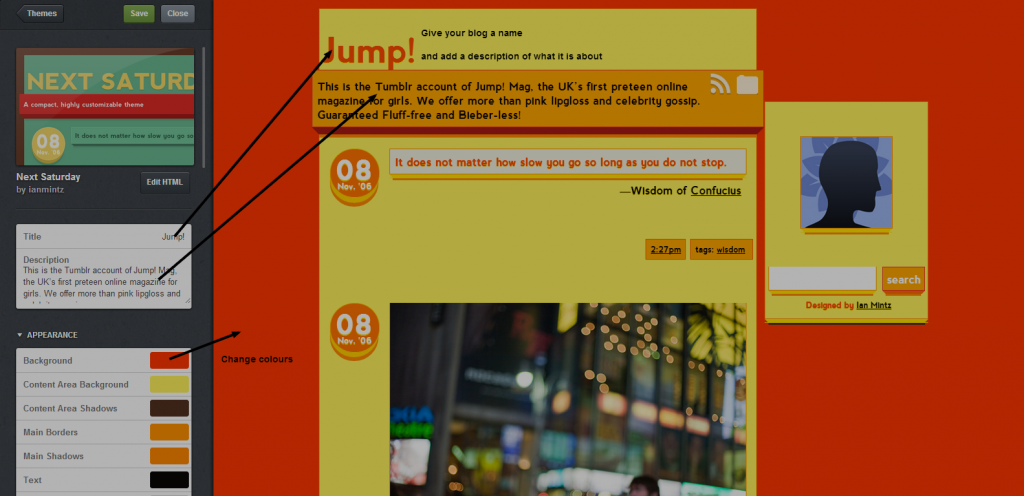 Don't forget to save your changes, when you are happy with the look of your blog, then close the customisation panel, and click on Dashboard to write your first article
If you want the picture to tell the story, use PHOTO rather than TEXT. You can make the photo link to a webpage, like we have done here
OK. That' s the basics of Tumblr. Tomorrow we shall move on to using WordPress, with detailed instructions on how to set up a WordPress blog. Later we will show you Blogger. 
You can try them out and see which one you like best. For lots of photos, and the ability to share with others, Tumblr is great. If you want to write longer stories or articles then look more closely at WP and Blogger. 
GO BLOG!
Founder and Editor
at
Jump! Mag
A freelance writer, who lives and works in Scotland with her family and fluffy white dog.

Likes: Writing, reading, twitter and chocolate
Dislikes: Negative and angry people
Latest posts by Lynn Schreiber (see all)